I (Joanna Clark) had the honor of interviewing Dr. Patricia Kiser of University Chiropractic. During our interview we had an engaging conversation discussing her holistic and chiropractics practices.  Did you know that Pediatric Chiropractic can help treat a child's symptoms without the use of medications?
Dr. Patricia Kiser-Cohen, a native of San Mateo, California, attended Aragon High School and developed a deep interest in healing. Her fascination with the human body and its afflictions, such as pain, disease, and diminished quality of life, led her to explore various holistic methods of treatment. Although she was active in high school sports, including cheerleading, horseback riding, and soccer, she suffered from back pain after fracturing her lower back. Her search for effective pain relief led her to chiropractic care, which she was introduced to by a personal mentor. Dr. Kiser then interned in a sports-medicine chiropractic clinic the following summer that catered to various professional athletic organizations, which further fueled her passion for chiropractic care.
To pursue her career goals, Dr. Kiser pursued pre-medicine and earned a Bachelor of Science in Human Biology from Patten University before enrolling in Chiropractic College. In 1994, she obtained her Doctorate in Chiropractic Care, and after gaining three years of clinical experience, she founded her own practice in 1997. Dr. Kiser has worked with hundreds of babies and children of all ages, helping them overcome various conditions such as colic, ear aches, constipation, latching issues, asthma, and allergies, including her own son when he was an infant. She truly is an expert at pediatric chiropractics. Her healing abilities have earned her clients from all over the Bay Area, who benefit from her extensive knowledge of anatomy and physiology. She can quickly identify the source of pain and provide immediate relief, helping her clients achieve their optimum level of health.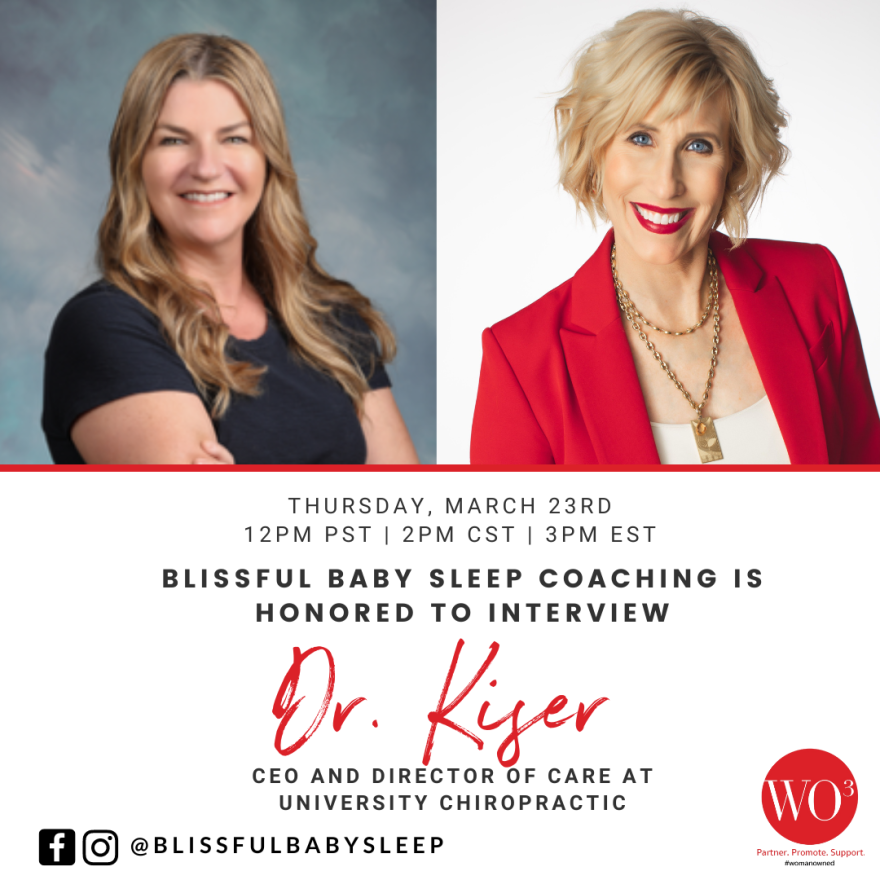 To watch the interview click here.
During our interview, Dr. Kiser, a pediatric chiropractic professional, wanted to shout out two amazing women-owned businesses in the San Francisco Bay area. 
Kristin Podulka at Palo Alto Reiki and Ory Seidemann at Decodebaby in honor of WO3!
Kristin Podulka at Palo Alto Reiki
As a certified Reiki Master and Teacher, with an additional certification as an Energy Healing Practitioner. she offers in-person and long-distance modalities.
Reiki Healing
Chakra Balancing
Aura Clearing
Intuitive Guidance
Guided Relaxation
Restorative Music
Crystal Therapy (in person)
Aromatherapy (in person)
To learn about Palo Alto Reiki
Ory Seidemann of Decode baby 
Ory specializes in:
New Parent Coach
Certified Lactation Educator Counselor
Postpartum Doula
Newborn Care Specialist
Crystal & Reiki energy healing practitioner
Birth doula in training
To learn more about Decodebaby check out:
To learn more about Dr. Patricia Kiser check out University Chiropractic's website:
Patient Appreciation Day on 4/22 (Earth Day)–come learn about her AMAZING Holistic Practice